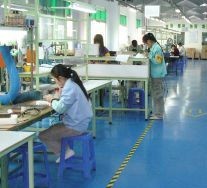 Eletechnic is specialized in developing, manufacturing and marketing comprehensive range of Brushless DC Motor and Brushless Motor Controller. From 1989, our BLDC Motor and Controller have been widely used in various industries as automobile, space, R/C, dc brushless fan, centrifugal machine, aviation, medicinal and surgical tool, textile machine, electric tool, servo motor, grinding machine, drill press etc.
Eletechnic has a wonderful team made up by various experts on research, design, manufacturing and management in P. R. China.
We are aware that no two projects are exactly alike, and we are adept at custom-designing products to meet your specific project needs.
We are constantly looking for new opportunities and are very interested in hearing about your project's specific requirements. Give us a challenge!